REPRINT
in Hardcover

A must for fanciers of Bulldogs, Bull Terriers and Bull breeds from the Alano, Presa to the Tosa Inu (to name a few !), no show dogs, but above all working strains !

THE GREAT BOOK OF
BULLDOGS, BULL TERRIER AND MOLOSSER

English

new revised, completed and enlarged
with many rare photos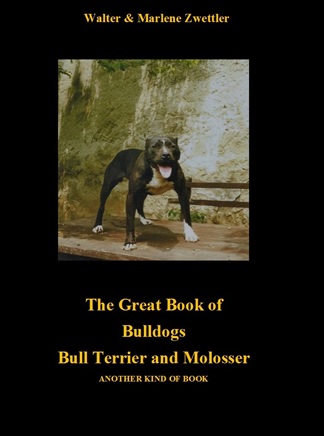 € 80,- + shipping
Our limited number of this reprint is already sold, books only available from the publisher, if interested let me know, I'll pass it on to him

DEUTSCHE VERSION AM SEITENENDE
Now, these are my favorites – Bull Terrier and Bulldogs keeping me busy fairly. What already has showed with terriers and spaniels, becomes manifest much more there. Today these breeds are bred into monstrosity and absurdity, so that many of them are neither viable nor useable today. However, there still exist some rebellious people, who won't accept it. For that they are discriminated and indeed almost criminalized by the FCI too. Among the different Bandog breeders for example you'll find people like Lucero, having bred dogs for some generations, being able to keep up as watchdogs, Schutzhund and companions with everyone, and more resembling the Mastino of the 1960's than the common "cripples", which are shown as Mastinos in the show ring today. The same goes for Bulldogs, where you will find useful dogs too as for example the Gargoyle Bulldog. Hopefully these people won't be lulled by the FCI.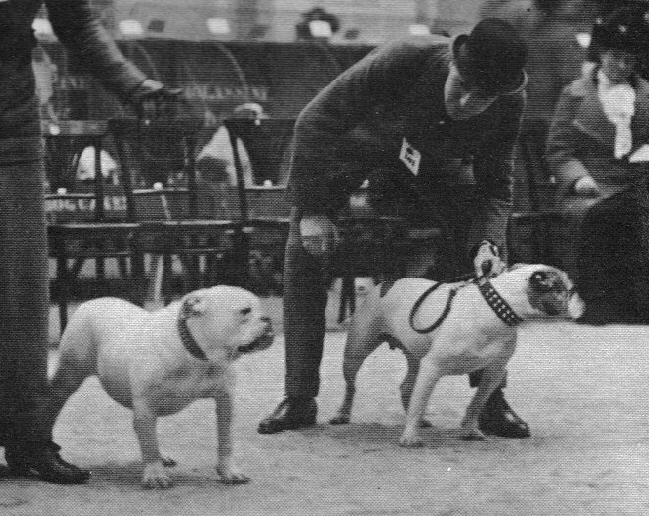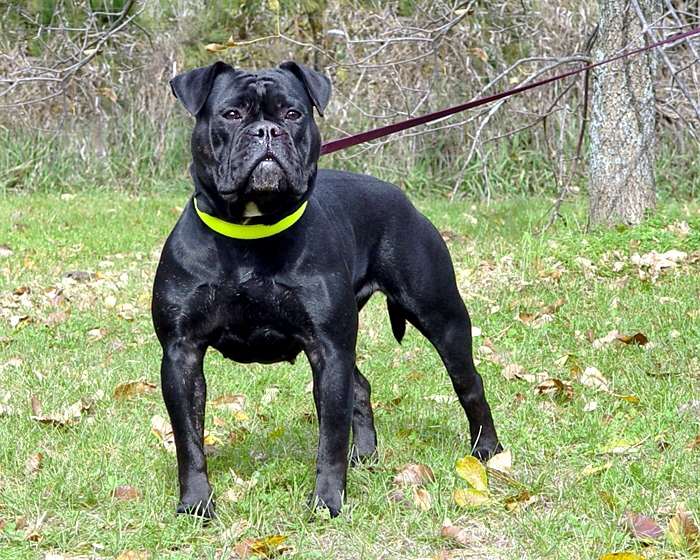 English Bulldogs - about 1900 Gargoyle Bulldog Supernova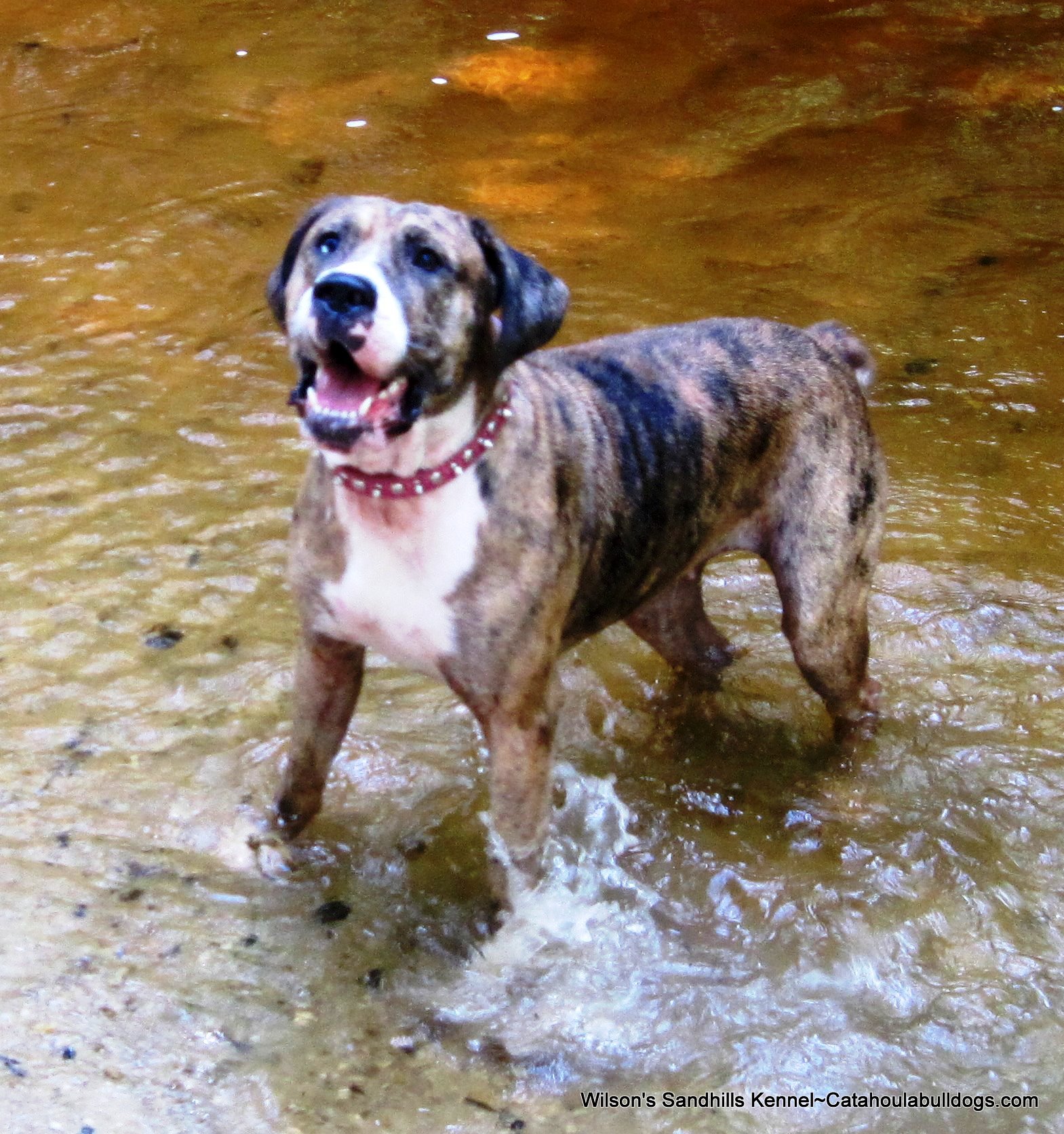 American Bulld
og
(Johnson) - Zw Bully

Catahoula Bulldog - Wilson's Shugah Belle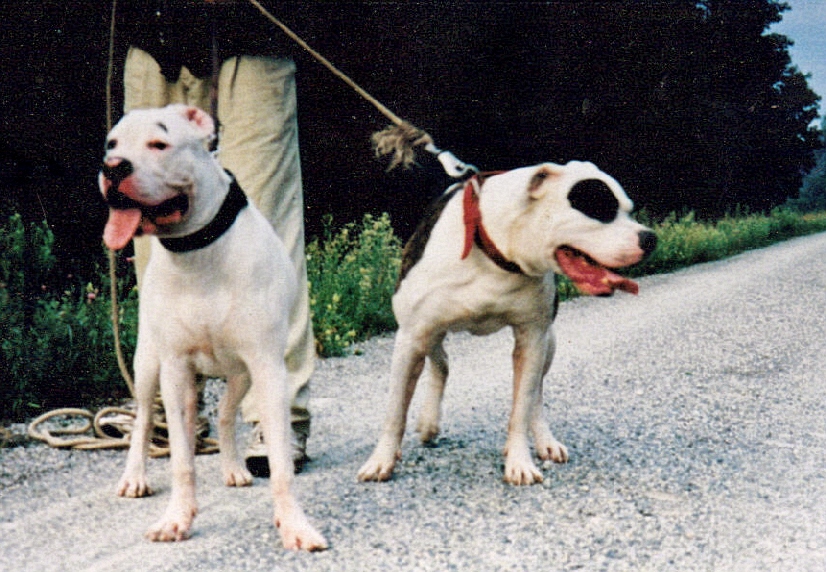 ZW Gundel & Zw Bear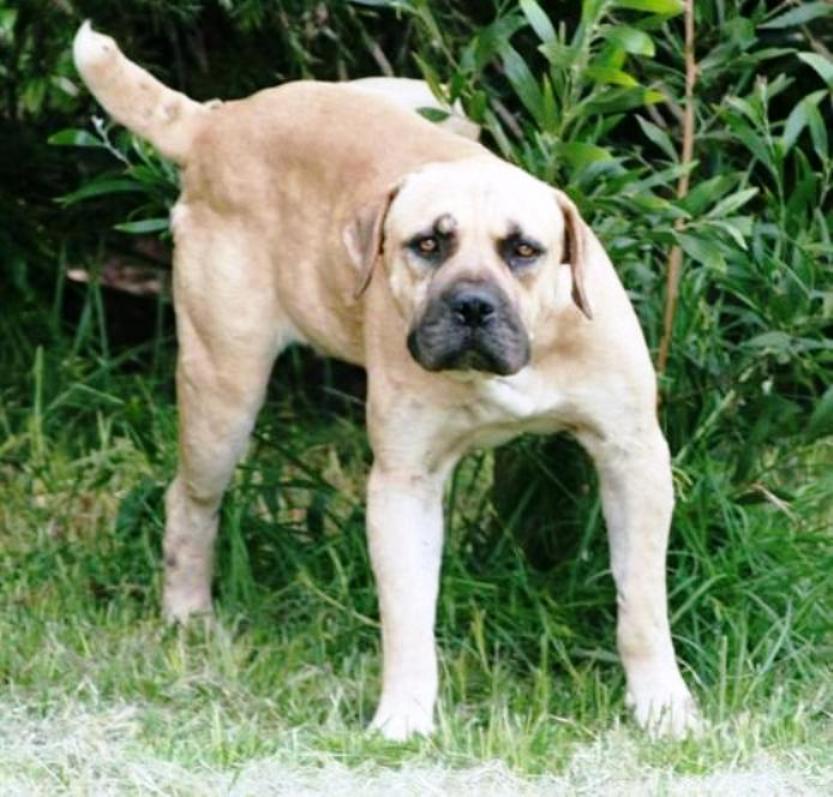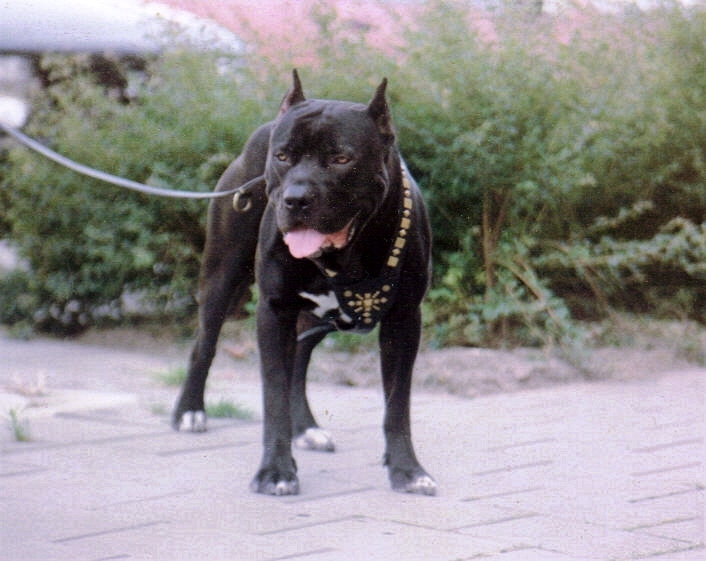 Bandog Inu

Boerboel, South Africa

The same, if not worse, applies to the Bull Terrier! Already Hauck guessed in which direction the English Bull Terrier would develop, and he struggled against commercial breeding. In former Czechoslovakia Frantisek had bred his Bull Terriers as working dogs for hunting. Almost at the same time at other world's end Martinez created his Dogo Argentino. It's the pure catastrophe which curs the clubs are serving up. You already have to go on a little journey for a good Hunting Terrier, but you have to go even further to get a sound Bull Terrier of Hinks type – for example Karachi would be an address. For in Pakistan and Northern India you still find these dogs, then the colonial masters had brought with them and which have survived there until today.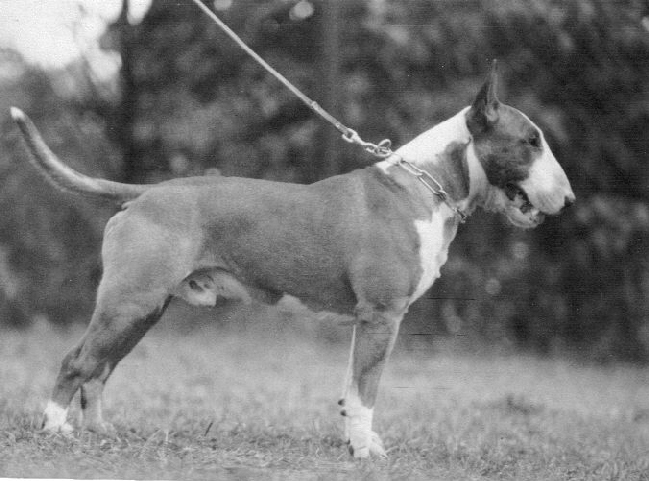 Bull Terrier - 1970's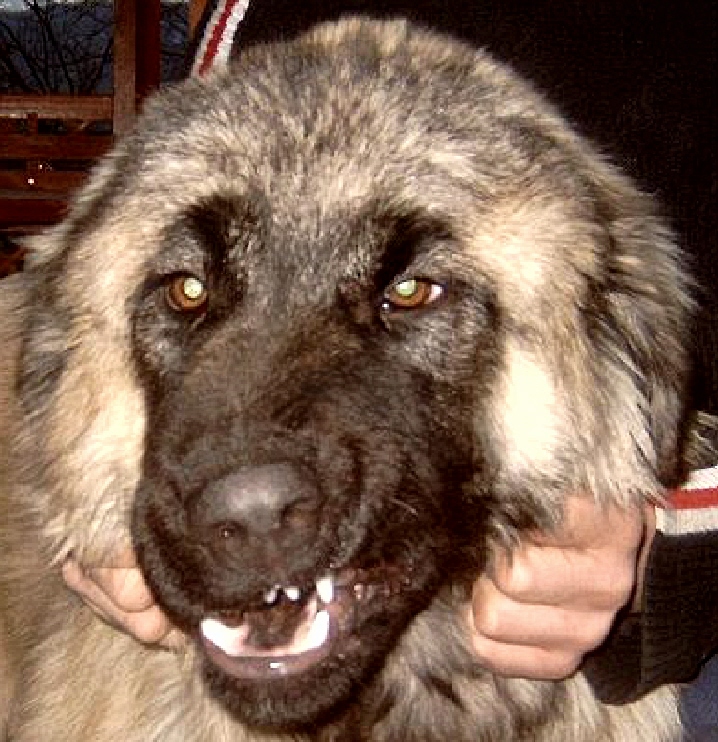 Kangal



Illyrian Shepherd



Aldo & Braza

HAVE A LOOK AT THE PHOTOS - YOU'LL FIND MUCH MORE IN
THIS BOOK !

---
Ist nur mehr in Englisch erhältlich - bez. Info senden Sie email an uns


Hier sind wir bei meinen Favoriten – Bull Terrier und Bulldoggen, die mich ziemlich beschäftigen. Was sich schon bei den Terriern und Spaniels abzeichnet, tritt hier noch viel mehr zu Tage. Diese Rassen werden heute ins monströse und absurde gezüchtet und viele von ihnen sind heute weder lebens- noch gebrauchsfähig. Aber auch hier gibt es hartnäckige Personen, die dies so nicht hinnehmen wollen, auch sie werden von der FCI dafür diskriminiert, ja schon beinahe kriminalisiert. So werden Sie bei verschiedenen Bandogzüchtern einige finden, wie z.B. Lucero, der seit einigen Generationen Hunde züchtet, die als Wach-, Schutz- und Begleithunde mit jedem mithalten können und dem Mastino aus den 1960ern ähnlicher sehen als die üblichen "Krüppel", die man heute als Mastino auf den Shows sehen kann. Dasselbe gilt für die Bulldoggen. Auch hier kann man brauchbare Hunde finden, wie z.B. die Gargoyle Bulldog. Man kann nur hoffen, dass sich diese Leute von der FCI nicht einlullen lassen.
Bei den Bull Terriern ist es genauso, wenn nicht noch schlimmer! Schon Hauck erahnte beim Englischen Bull Terrier, was sich hier entwickelt, und wehrte sich vehement gegen diese kommerzielle Zucht, und Frantisek in Tschechien hatte diese noch als Gebrauchshunde für die Jagd gezüchtet. Beinahe gleichzeitig schuf Martinez am anderen Ende der Welt seine Dogos. Es ist schon die reinste Katastrophe, was einem hier bei den Vereinen an Kötern vorgesetzt wird. Müssen Sie schon beim Jagdterrier eine kleine Reise unternehmen, um einen vernünftigen Hund zu bekommen, so müssen sie bei den Bull Terriern noch etwas weiter reisen, um einen gesunden Hund vom Typ Hinks zu bekommen – Karachi wäre z.B. eine Adresse dafür. Denn in Pakistan und Nordindien findet man noch diese Hunde, die seinerzeit die Kolonialherren mitbrachten und die bis heute dort überlebt haben.
Info & Order: